4 Questions to Consider Prior to Your STD Checks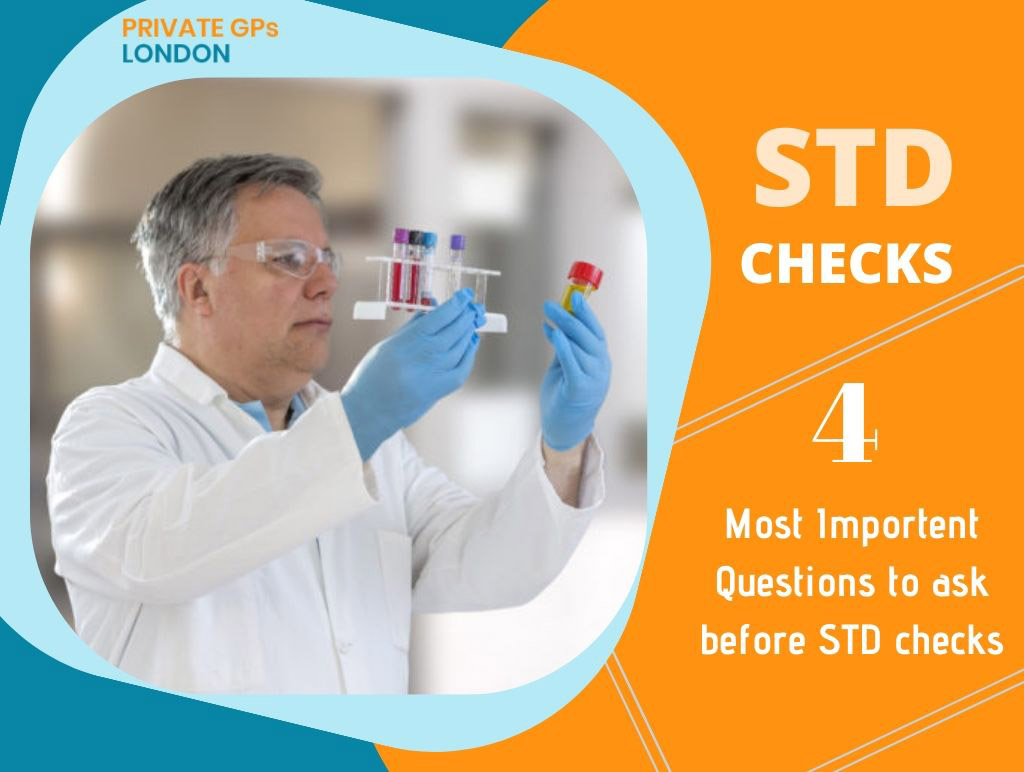 Contracting an STD and the prospect of spreading the infection to others is a common health worry facing modern people, however at GP London, we are tackling the stigma with fast, private and comprehensive sexual health screening. As per CDC, a lot more people are contracting STDs in recent years.
The highest increase in STDs is in young people aged 25 and below. The most commonly contracted pathogens included Gonorrhoea and Chlamydia.
What do you mean by an STD?
At first, you have to understand the basic difference between STD and STI. Sexually Transmitted Infections, if left untreated, typically develop into STD (Sexually Transmitted Diseases). But this doesn't mean that an STI will always develop into the disease, especially with timely intervention. STDs can result in prolonged medical complications which are often treatable.
Now, certain questions regarding the STD can go through your mind. All answers to the questions are totally depended on your risk factors, sexual activity and the age of the individual. Instead of panicking, all you can do is to get tested regularly and practice safe sex.
Before undergoing same day STD testing in London, you should know about the 4 principal questions that you need to consider in the section below:
1. When STD checks are essential?
In general, if you are sexually active, it is important for you to visit your local GP for undergoing STD tests regularly, especially when changing partners. When we are talking about STIs, we don't just mean Gonorrhoea or Chlamydia but also more serious infections like HIV, Syphilis and Hepatitis.
Moreover, it is a good idea to get tested every time you have sexual contact with someone new. If you engage with several partners then you are recommended to get screened once every three months. This helps protect yourself and your sexual partners.
2. For how long you have to wait to get checked?
Given below are some timeframes to obtain an accurate test after potential exposure:
2 weeks: Chlamydia, Gonorrhoea and HIV
1 week to 3 months: Syphilis.
6 weeks to 3 months: Hepatitis B and C and HIV.
3. What are the common symptoms of STD
Although STI tests are quite resource consuming, time consuming and expensive, you have to be smart while getting your sexual health status checked. The prime motto of undergoing STD testing is to stay protected and follow the professional guidance that you will receive in order to keep you healthy in the long run.
If you have already had unprotected sex with a new partner several times, then you become highly susceptible for an STD contraction. At that time, you should get tested and always use protection after that. As you already know, many STDs don't possess any symptoms. However, if you forgot to use the condom or it came off or broke at the time of intercourse, you may experience mild or no symptoms at all.
Essentially, the symptoms you may experience are mentioned below:
Severe itching close to vagina or penis.
Painful sex.
Apart from menstruation, bleeding from vagina.
Abnormal discharge from vagina or penis.
Yellowish skin (jaundice).
Chillness, fever, pains and aches.
Night sweats, loose stools and weight loss.
Painful urination.
Skin rash.
Redness or swelling close of vagina or penis.
Warts, sores or bumps in the vagina, penis, anus or mouth.
Obviously, every STD possesses its own series of symptoms. Hence, you are advised to do extensive research in case you are highly concerned regarding any specific STD.
4. What will be the expectation from STD checks?
At first, you have to arrange an appointment at any local STD clinic or GP for undergoing the STD tests. While you visit the clinic for sexual health testing, you will be asked some personal details along with your contact information. Basically, you will not get the test report right away.
You have to wait for some days or at least a few hours before receiving the results. There are some clinics which can assure to deliver the test report within 4 to 6 hours. Later, a nurse or the doctor will inquire about your sexual and overall medical history. Accordingly, they can determine which tests are essential for you. It may need:
Genital examinations.
Urethra swabs.
Blood sample.
Urine sample.
Now as you are well aware of the questions to ask during STD testing, book your private GP appointment in London. There are certain clinics where appointments can be fixed according to your convenient time. Just choose one amongst them on the basis of their services, affordability, convenience and reliability.